The Overlander is your essential gear bag for adventure riding. Packed full of adventure motorcycle-centric features,  it's the ultimate motorcycle travel bag. 
With a semi-rigid design, it holds its form and protects your gear behind 3 solid layers. 
There are 4 quick-release side buckles that take seconds to securely attach or remove the Overlanders to your motorcycle. Clean up all loose ties with an integrated webbing stow system. 
Integrated lock bar, walk away from your bike with confidence, the Overlanders have a metal locking bar to secure the bag to your motorcycle with a Steel Core lock or equivalent.


Watch the detailed breakdown of our Overlander bag:
The Overlander features a Beavertail, which is ideal to store excess clothing on temperature changes, store water hydration packs, and map cards. The Beavertail has one pocket, place for a  hydration water bladder and a touch screen sensitive map pouch.
With a total of 6 pockets, finding and protecting your stuff is easy.  There are three outside pockets and three inside pockets strategically placed for access on the bike or for when walking around town.
Waterproof:  With high frequency welded seams, the Overlander is 100% waterproof even in driving rain. The closure has an extra two layers to ensure a tight seal and dry gear.
The external pockets are water-resistant but not waterproof. Storm flaps and high-quality YKK AquaGuard© zippers stop water in most cases - the external zippers can take on water submerged. The main bag is waterproof.
From bike to hotel or that pristine camping spot, padded carry straps are included to lug your gear, the straps are removable and there are grab handles on all four ends of the bag.
Overlander Features
Quick release side buckles
Lock bar
Beavertail gear stash
Map pouch (Touch screen sensitive)
3 outer pockets
3 inner pockets
Hydration pack pouch (3L/0.7gal Hydration bladder available here)
Removable padded backpack carry straps
Spot/Inreach MOLLE clip-on carry straps
Key lanyard
5 grab handles for easy pickup
Air release valve
4 layer extreme rolltop seal
Large opening for easy gear access
Hypalon fabric
YKK AquaGuard© zippers
Reflective safety strips
MOLLE attachment system
G-hook quick attach system
Quick attach MOLLE System
Velcro badge
Carry handle
Stiffening inner plate
Bright inner lining
Duraflex UTX buckles
Tightening straps
Waterproof
Aluminum G-hooks
600D 1inch Webbing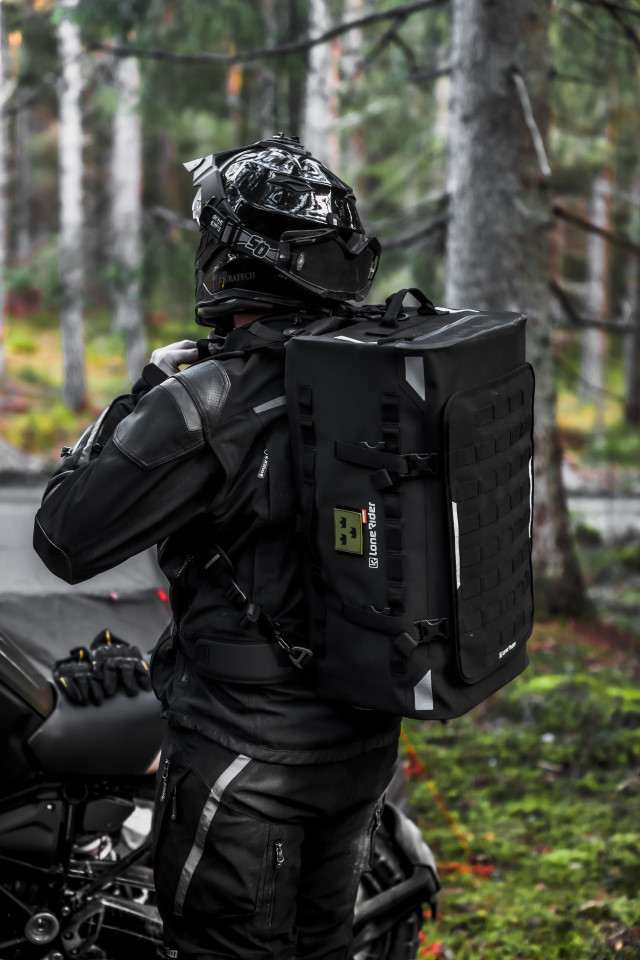 Overlander 30 Specifications
Volume: 30L/7.9gal Capacity
Length: 49CM/19.2"
Height: 23CM/9"
Width: 26CM/10.2"
Weight: 2.5kg/5.5lb
Overlander 48 Specifications
Volume: 48L/12.6gal Capacity
Length: 55CM/21.6"
Height: 28CM/11"
Width: 32CM/12.5"
Weight: 3.2kg/7lb
Overlander Fitment
Overlander 30 fits the top of MotoBags
Fits to motorcycle tail or passenger seat
Wear as a backpack
Any MOLLE 25mm/1inch webbing
All straps included for fitment.
Hydration Bladder 3L Accessory
Hydration 3L water bladder fits inside the beavertail and sold separately.
Product Videos
Lone Rider Overlander 30L bag first impressions Lone Rider OVERLANDER 48L Review & Test How to attach your Overlander bag to your motorbike How to secure your Overlander bag to your motorbike with Steelcore security straps (

not included!

)
Product Instructions
Download Overlander Installation Instructions