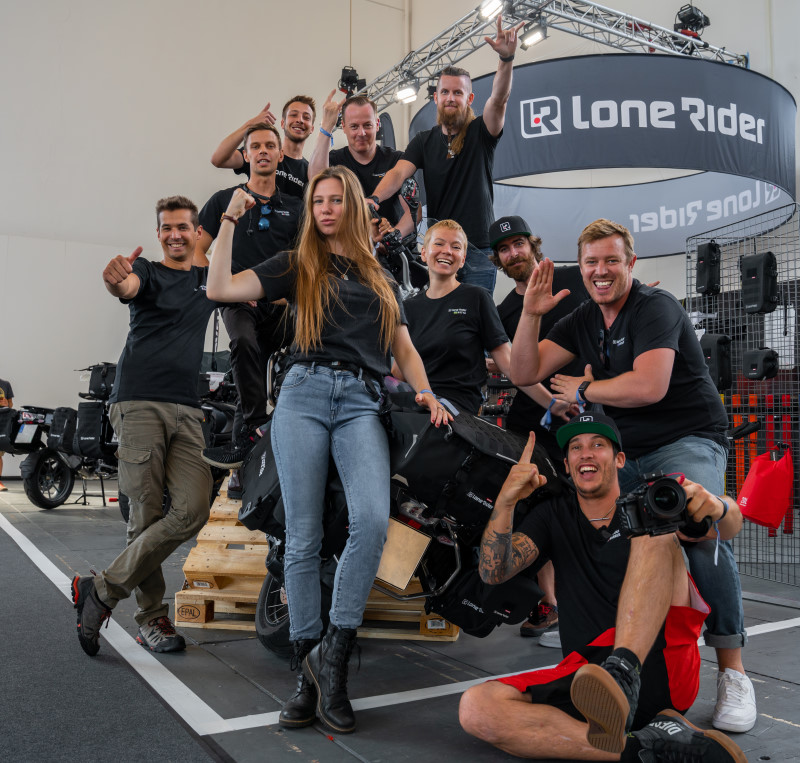 Fred
Founder & CEO
" I've been traveling the world on a motorcycle for 10 years; living as a nomad while exploring more than 80 countries on a countless number of different motorcycles.

When I was 23 I embarked on my first great motorcycle adventure: a 17 000 km ride from Beijing, China to my hometown of Paris, France on a small but capable Yamaha XT250X.

I then explored Latin America on a KLR650 before traveling around the world for 4 years using a Ural Sidecar as well as a number of other bikes.

I founded Lone Rider with the goal of building the highest quality equipment for adventure motorcycle riders, without compromise between form and function. "
Andrew
Product designer & COO
" I'm an industrial designer from New Zealand who has developed various products for household-name companies for more than a decade.

I'm a seasoned traveler and have visited nearly 90 countries, circumnavigated Africa on a motorcycle, and ridden unassisted on horseback throughout South America.

I joined the Lone Rider Team with the intention of combining my two passions - adventure motorcycle travel and design. "
Anna
Customer Service
" I have a huge passion for traveling and learning different languages. I get thrilled by motorcycles and motorcycle travel, and enjoy being part of a team that is made up of different and interesting people from all around the globe.

I'm here to handle your requests and inquiries regarding our range of products. "
Joe
Logistics
" Joe (born in the US) began his love story with two wheels when he took off on a cross-country trip from New York City and ending in LA during his gap year, visiting all 50 states. After finally landing in LA, he picked up a secondhand, beat-up 125cc scooter and began working in the manufacturing industry, focusing on logistics and supply chain management.

Joe joined the Lone Rider team in 2019 and handles anything from vendor relations to working with couriers so that orders arrive on time. He navigates the twisties of international logistics with the goal of getting our fans fantastic gear in the most efficient way possible. "
Alex
Marketing & Media production
" Born and raised in Scandinavia, the passion for motorcycles came before I even could speak. With my first tailormade leather suit at age 7, I joined my father on his weekend rides on his -86 Harley Davidson Softail.
​
In 2015 I purchased my first real adventure motorcycle and soon after I also found my other passion: Photography. These two passions combined brought me to where I am today!

Favorite places to ride?
- Any offroad routes, Norwegian fjords and alp-passes of Switzerland. "
André
Customer service & Translations
" André is an IT engineer, who was born and raised in France; he has always been passionate about motorcycles because of his biker grandfather who instilled in him the passion for two wheels.

Traveling regularly throughout Europe, he has managed user support for several years for various international renowned companies.

Fluent in 4 languages, he likes to help by finding simple solutions to complicated problems, no matter who his interlocutors are or where they are! "
Baptiste J.
Product engineer
" I am a french mechanical engineer specialized in motorcycle and automotive industry. Passionate about mechanical engineering and motorcycles, I love to design motorcycle parts and systems from a blank page.

After years of experience in the automotive industry and motorcycle competition, I try to bring the best of these two worlds to Lone rider products: quality and performance!

After many years living abroad in Spain, Malaysia and Morocco, I came back to France to ride my old BMW R100 in the French Alps. "
---
Lone Rider, distributed by LNRDR LLP, 52A Tower Road West, Saint Leonards-On-Sea, TN38 0RG, UK. Company number OC435029.