ADV Tent - Adventure Motorcycle Tent
The ADV Tent is a motorcycle tent designed to shelter one or two riders, their gear and all luggage.
Drawing on almost a decade of tent design and manufacture, the latest addition to the Lone Rider tent family builds upon a history of quality and exceptionally functional tents for motorcycle camping.
This tent is designed and tested by riders all over the world. All features on this tent have a motorbiker centric function.
This makes the ADV Tent the only true 2 person biker tent and the best motorcycle tent on the planet.
Three designs:
ADV Tent - Motorcycle Tent with no map artwork
ADV Tent Globetrotter - Whole world map - All world countries
Includes Lone Rider black marker, to draw your itinerary on the tent!
>> Free worldwide shipping with tracking
Motorcycle Tent Features
Size
The perfect tent size for solo or two-up expeditions. Designed to be roomy yet lightweight and extremely packable
Gear Storage 
Designed with the rider in mind, there is an extra storage room for riding gear, helmets, jackets and boots inside or outside under the vestibule fly. The tent boasts enough space for both panniers, top case, roll bag and tank bag. Everything needed for motorcycle camping can fit in the ADV Tent, except the bike
Cable Flaps 
Lockup your valuable equipment inside (with a mesh net, sold separately by Pacsafe) or run power into the tent when in a designated camping grounds
Perfect Pack Size
Designed to fit into most motorbike luggage systems (Aluminum or Soft Luggage) Packed size 41x15cm (16.1"x5.9")
Custom Biker Carry Bag
Compression bag with a tie-down molle system, and a roadside breakdown safety triangle
Overlander Ready
Stealth colors for wild motorcycle camping scenarios
Personal + Unique
Graphical maps to show or plan your itinerary (pen included)
Multi-Use
Awning kit included for shelter against rain, shade or to cook outside
Access
Extra large door for easy access, riding gear like neck braces or water reservoir backpacks won't catch when entering or exiting the tent
Practical
Quick door stuff pocket, unique to Lone Rider
Security
Hooks inside the doors.  The zipper can be clipped and cannot be opened easily from outside when occupied. An added safety recommendation from our lady riders
Drying
Loops to dry light wet riding gear
Materials
Tested by motorcycle campers and bikers for almost a decade. Best quality, no compromise
Privacy belt
Sidewalls are set higher to give you better privacy and security
Safety
SOS rescue signal ground mat - Reflective SOS letters. Morse code dots and rescue sign graphics. Included with every tent. 
Space
Enough headroom to inhabit for days or comfortably get changed into riding gear
More features
Access
Strategically located pockets for easy access to all your gear. 5 pockets in total including a roof gear loft.
Full length
Designed for taller riders also, comfortable full-length tent
Airflow
Optimized adjustable airflow for hot summers or cold pre-season motorcycle camping trips
Double entry
Two-sided door tent access.
Vertical Wall Design
No need to feel claustrophobic anymore. Side walls have a vertical design making the tent adequately large.
The most versatile motorbike tent on the market.
 On Her Bike with the ADV Tent in Jordan.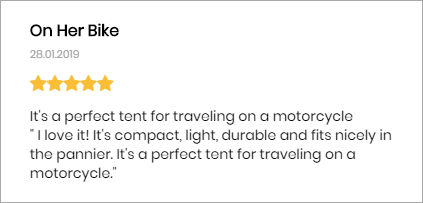 SOS Reflective Ground Sheet 
Included with the tent!
Replacement groundsheets available here
Built-in Hazard Triangle 
The water-resistant carry bag is custom designed for motorcycle travel. It comes with a MOLLE system and a warning triangle for roadside breakdowns.
Change the tent to suit your environment 
The tent can be configured to suit the climate and conditions:
Full cover fly option for 100% rain protection
Half fly option for gear storage and panoramic views
Inner tent coverage for optimal airflow but with basic rain protection (jungle camping). Quickly convert into a full fly system.
Inner tent for hot camping conditions.
Rain fly only with the pole system (Use with groundsheet recommended)
6 entry points depending on wind direction.
Motorcycle Tent Sizes
Simple Setup
Motorcycle Tent Specifications
Fabrics
Fly fabric: Ultralight UV-Resistant, Rip-stop, Fire-Retardant CPAI84, 10 000mm waterproof coating, 210T Polyester
Floor fabric: Ultralight, Rip-stop, Fire-Retardant CPAI84, 10 000mm waterproof coating, 190T Nylon
Inner tent fabric: Breathable Polyester, Fire-Retardant CPAI84
Poles Material: Aircraft Grade Aluminium 7001-T6
Pegs: Aircraft Grade Aluminium 7001-T6 (14 units)
All seams are taped and coated to be 100% waterproof.
Construction
Two-part quick setup design - Inner tent and outer fly tent
One piece pole system - Solid structure connected together for fast setup
Self-standing design - minimal staking needed and easy to clean out inner tent
Double sewn seams
Tent Poles
One pole spine connection setup
All poles are connected together for easy setup and takedown.
Singular pole system creates a stronger frame structure over independent poles
Comes with an emergency pole breakage sleave
Disassembled poles fit most major motorbike pannier luggage systems
Aircraft-grade aluminum 7001-T6
Hardware
Duraflex buckle family
High-quality zippers
High tensile military grade guylines
Inner Tent Storage
Quick stuff door stack - stow door within seconds
Roof Storage, find your stuff quick and easy, a great place for a light too
Head and foot storage pockets
Total 5 storage compartments
Packing Cases
Stuff sack style for quick packing and setup
Water resistant dry bag
Compression straps
Reflective strips
Warning triangle system for roadside breakdowns
Fits common pannier systems (BMW, Lone Rider MotoBags etc)
Space for groundsheet stuff sack
Webbing for securing poles outside the tent bag
Padded tent bag ends, prevents cable breakage.
Pole bag webbing for securing poles on bike
Peg pouch integrated into pole bag
Tent Pegs
Aircraft Grade Aluminium 7001-T6 (14 units)
Tri spiral aluminum alloy design to accommodate a wide range of soil conditions.
Super light but strong (8.5g each)
High tensile rope loops for easy removal
Colored red to easily find in grass or mud
Quick overview:
Packed size: 41x15cm (16.1"x5.9")
Tent inner size: 203x122cm (47.6"x80")
Tent with rainfly size: 275x225cm (108.2"x88.5")
Weight (poles, fly, inner tent, guy lines, stuff sacks): 3.35 kg (7.38 lbs).
Fly fabric: Ultralight UV-Resistant, Rip-stop, Fire-Retardant CPAI84, 10 000mm waterproof coating, 210T Polyester
Floor fabric: Ultralight, Rip-stop, Fire-Retardant CPAI84, 10 000 mm waterproof coating, 190T Nylon
Inner tent fabric: Breathable Polyester, Fire-Retardant CPAI84
Poles Material: Aircraft Grade Aluminium 7001-T6
Pegs: Aircraft Grade Aluminium 7001-T6 (14 units)
SOS ground sheet included
Ready for your adventure!
Instructions

:
Detailed setup instructions: ADV Tent Instructions  (PDF 3.6Mb)
What riders say about the ADV Tent:
Motorcycle Adventures

onherbike

joshuASKjones

FTA Adventures

Her Two Wheels

AdvAnywhere
When preparing for motorcycle trips, it's essential to give a lot of thought to choosing the right equipment. One that will serve us reliably for years and never let us down. For us, an important part of our equipment is a tent that will provide us with a roof over our heads regardless of where we are.[...]

Read more on: https://advanywhere.com/lone-rider-adv-tent/
Barry Robinson
"Hope it shows people how cool 😎 the tent is.
 Yes we will have many Trips away in it.
 Kind regards and many thanks 🙏"

 Barry Robinson
Adam Sandoval @adamsandoval.official
Having the right tool for the job is important. After testing many many tent setups I can honestly say this is the best motorcycle tent I have used to date. It's small for packing and gives great room inside. Go check them out.
@xtadventures
Under the stars with the ADVTent.


 Xenia & Tinu
Ian Morris
"Great piece of kit just done ten countries 8 days
fits in gs panier perfect."
 

Ian Morris
Schneit Wood on FB
"I am more than happy with my ADV tent! I am currently on tour through Scotland and the ClassicTT on the Isle of Man. Gusty winds, heavy rain, no problem at all. Thx, everywhere is home!"
Yavuz Yilmaz (@iamcrato) on IG
"I am loving my @loneridergear ADV tent more and more. I can literally throw my panniers and all of my kit in and sleep in a comfy space. And I'm ready packed in 5 mins next morning.  All hardware is durable high-grade aluminium and just snaps into place. If you pack hardware separately, you can pack it to fit even the smallest panniers. Thank you guys for paying that much attention to details."
STEVE GREY BEARD SMITH
"Solo camping trip in Oklahoma."
@bmw4adventure2go on IG
"We are very satisfied with the Adv Tent. In the apses our suitcases incl. Shoes and helmets find space and if necessary even our camping chairs. Super tent for motorcycle trips"
Schalk L Brits
"Received mine on pre-orders! Great tent, really love it! Easy to erect, great space for odds and ends! Thanks for a great product!."
Zoltan Pocza
"Tent worked nicely, but I need to find a better sleeping bag...4C at night in the mountain was kind of shocking in a bag that was designed to hold up till 15C :D

Cheers Zoltan"
Steve Grey Beard Smith
"Camped along the route of my 11.5 day 4125 mile trip. Even ran into two other guys with the same tent."
Questions about the tent? Get in touch