—

A spacious tent with a small packing size


We designed the ADV Tent with one thing in mind: Full Focus on the rider's needs. It's designed to shelter one or two riders incl all riding gear and luggage.

Having a spacious tent with a small packing size, that's fast and easy to set up but also packed with rider-centric features, is simply crucial to make your adventures as comfortable as possible.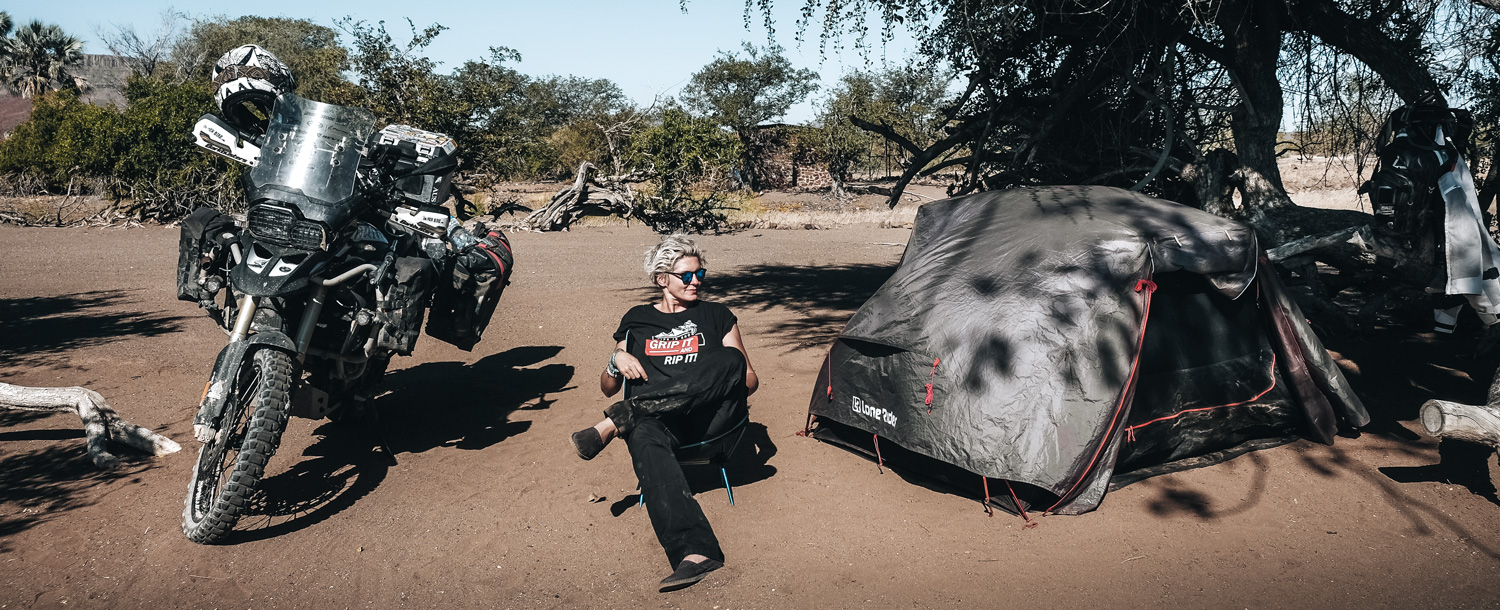 " It's tough, it's durable and it's light-weight. I think it's the perfect tent for traveling on your motorcycle across the world or even on weekend trips. "

- Kinga Tanajewska / @onherbike
— 

Key Features

The ADV Tent is packed with great features to make your motocamping experience as easy and trouble-free as possible.
1. Fully waterproof
The outer tent is made from ultralight and UV-resistant Rip-Stop polyester fabric (210T) with a 10 000mm waterproof coating to keep you and your gear dry at all times no matter how heavy the rainfalls are. The material is also Fire-Retardant for your safety.
2. Ventilation
The outer tent is equipped with 3-dimensional air vents that increase air circulation. Thanks to their design, they can be used even in pouring rain without leaking.
3. Double overlapping zippers
To keep rain on the outside, all zippers of the outer tent are covered by overlapping flaps.
4. Dual storage areas for dirty / wet gear
Between the inner- & outer tent on each side, there are large storage areas where you can keep boots, dirty riding gear, panniers, drybags and more to avoid getting your inner tent wet / dirty.
5. One-piece pole system
No risk of finding yourself searching for that second or third pole at the campsite, just to realize you've forgotten it back home. The ADV Tent comes with a one-piece pole system that is easy and fast to assemble, plus takes up minimal space when packed.
6. Corner access zippers
If you're camping on an official campsite where they offer electricity, you can easily pull the cord through 1 of the 2 corner zippers located diagonally from each other.
7. Large entry doors
The entry doors of the inner tent are large, easy to open and even easier to stuff away in their dedicated pockets on the inside. This way you eliminate the risk of getting snagged or being disturbed by them hanging all over the place.
8. Waterproof flooring
The floor of the inner tent is made from 190T Nylon with the same waterproof rating as the outer tent (10 000mm). It has the shape of a "tub" which guarantees that the inside of your tent stays completely dry even if the camping ground gets waterlogged.
👉🏻 If you're setting up your ADV Tent on gravel or rocky surfaces, you can install the included Ground Sheet to extend the life of your inner tent's floor.
— 

Check out our ADV Tent video:

 
— 

Dimensions & Weight

 
Total weight incl. poles, outer tent, inner tent, pegs, ground sheet, awning kit: 3.50 kg / 7.71 lbs
— 

Materials used

Outer tent
Ultralight UV-Resistant, Rip-stop, Fire-Retardant CPAI84, 10 000mm waterproof coating, 210T Polyester.
All seams are taped and coated to be 100% waterproof.

Inner tent
Breathable Polyester, Fire-Retardant CPAI84.

Floor
Ultralight, Rip-stop, Fire-Retardant CPAI84, 10 000mm waterproof coating, 190T Nylon.

Poles
Aircraft Grade Aluminium 7001-T6.

Ground pegs
Aircraft Grade Aluminium 7001-T6 (18 units).


 
— 

What's included?

Contents:

Inner & Outer tent

One-piece pole system
18 Ground pegs
SOS Groundsheet
Awning Kit
Rainproof bag
— 

Instructions manual

Detailed setup instructions: ADV Tent Manual
— 

What riders say about the ADV Tent:
Motorcycle Adventures

onherbike

joshuASKjones

FTA Adventures

Her Two Wheels

Midlands Motorbikers