INFO: OUT OF STOCK
Due to very high demand, we are once again completely out of stock of MotoBags 31 and MotoBags 38.

NEW!
The upcoming batch of MotoBags will have the proprietary Quick Release System directly integrated.
Pre-order NOW to secure your set of MotoBags for this season!

Estimated delivery: First half of August

PS: Orders placed from April onwards will be included in the July batch; this batch will natively include the Quick Release System!
---
MotoBags rack fitment and compatibility information.
https://www.lonerider-motorcycle.com/pages/motobags-rack-fitment
---
MotoBags - The Semi-Rigid Revolution
We provide FREE SHIPPING worldwide with tracking.
👉 
What's included in a set of MotoBags?
- Two MotoBags
- Two inner, removable dry bags
- Two universal mounting plates and all necessary hardware to attach to racks
- Two MotoBag-specific locks
All necessary hardware to attach to racks is included in the box. 
👉
Why are Semi-Rigid bags superior to aluminum panniers?
1) Lighter than aluminum panniers
2) Less dangerous than aluminum boxes in the case of a fall
3) Will not become damaged in the case of a fall
4) 100% waterproof (Aluminum panniers are NOT)

👉
Why are Semi-Rigid bags superior to soft bags?
1) Higher weight capacity than soft bags
2) Attractive shape is maintained, allowing better organization/access of gear
The MotoBags can be collapsed flat when not in use. The inner board just needs to be removed, as shown above.
The MotoBags come with a secure locking system, protecting your gear from the opportunist thief.
Many accessories of your choice can be easily fitted to the MotoBags thanks to the MOLLE system.

Add a personal touch to your MotoBags with the Colored Straps (sold separately). Available in Blue, Red and Orange colors.
 
👉 
Dimensions
38 Liter Capacity
Length: 44CM/17.32"
Height: 40CM/15.74"
Width: 24CM/9.44"
Weight: 6KG/13.22LB

31 Liter Capacity
Length: 44CM/17.32"
Height: 40CM/15.74"
Width: 20CM/7.87"
Weight: 5.7KG/12.56LB
👉 
Racks and Offset rack systems
For motorcycles with offset racks:
BMW R1250 GS/GSA, BMW R1200GS/GSA, BMW F850GS/GSA, BMW F800GS/GSA, BMW F750GS, BMW F700GS, KTM 1290 Super Adventure, KTM 1190, KTM 1090, Honda Africa Twin, Triumph Tiger Explorer 800, Yamaha XT1200Z Super Ténéré
We recommend the following sets of MotoBags:
31+38 liters (You can add extra capacity with our MiniBags)
For BMW R 1200/1250 GS and GSA, we recommend: 31+38L
This allows for a balanced motorcycle with asymmetric racks:
MotoBags Mounting System
Install Instructions
Download Quick Release MotoBags Instructions.pdf
👉
What pannier/luggage racks are compatible with the MotoBags?
The MotoBags quick release system can be easily adjusted to fit most motorcycle racks on the market. 
✅  The configuration out of the box is set to fit BMW factory OEM Racks for BMW R1200 GSA Water Cooled OEM / BMW R1250 GSA Water Cooled OEM 2014-2021 models.
The MotoBags quick release system fits the following bike-specific Touratech racks:

KTM 890 / 790 Adventure / R Racks
Triumph Tiger 900 Racks
Honda Africa Twin CRF1100L Racks
Honda Africa Twin CRF1100L Adventure Sports Racks
Yamaha Tenere 700 Racks
Honda Africa Twin CRF1000L & Adventure Sports, All Years Racks
BMW F800GS, F700GS, F650GS Twin (2008-On) Racks
KTM 1190 & 1090 Adventure / R & 1290 Super Adventure/R/S/T Racks
For more information on what racks are compatible with the MotoBags quick release system please visit the MotoBags Rack Fitment page.
https://www.lonerider-motorcycle.com/pages/motobags-rack-fitment
👉
The material used to construct the MotoBags
HYPALON
Hypalon is an extremely durable and waterproof performance elastomer utilized in products designed for extreme use; such as whitewater rafts, containment suits, and other outdoor equipment. The material is a very versatile polyethylene (CSPE) synthetic rubber (CSM) noted for its resistance to chemicals, temperature extremes, and ultraviolet light.
By constructing the MotoBags with frequency-welded Hypalon along with Dyneema and Kevlar stitching, we are utilizing the best materials and construction methods available anywhere.
The best in the world. The strongest in the world.
👉
What riders say about the MotoBags
Adventure Moto Touring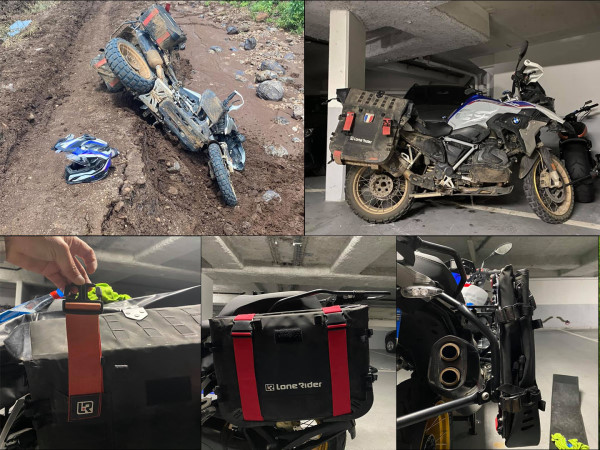 Eric Chauvin
Experience feedback on Lone Rider soft suitcases !
After 8000 kilometers travelled through Kenya and Ethiopia during a trip organized by the agency www.monsieurpingouin.com, the latter suitcases have been put through a strong test.
I fell dozens of times, the bike found itself hanging on the edge of a ravine... I let you imagine the result if this suitcase was hard! No significant damage, only a damaged rubber corner.
Back in France, I have contacted Lone-rider to find out if this corner can be changed; all spare parts are available.
So I order the corner, and take the opportunity to change the straps tarnished by the sun.
Quick order, very reasonable price... my suitcases are like new.
I highly recommend these products which are solid, design and particularly convenient.
Harry Hofsink
"I really like these bags and they get a lot of looks They have performed perfectly up to the top of North America tuktiuktuk to the bottom of Mexico in May this year we will be doing Europe and around the Baltic Sea."
Hadi Karim
"already installed my PRADA bag 😋"
Mike Stahl
"Back from my trip. We traveled 5,500 kilometres through all types of terrain and weather conditions. The Motobags were absolutely excellent.
First of all they were very easy to pack especially with the mesh bags that were included. The ... bags was a perfect fit for my Africa Twin. I was able to carry everything I needed (clothes, tools, food and camping gear) while still maintaining the low weight and balance of the bike.
The internal dry bags were excellent and kept out the muck, dust and rain that we experienced.
Installation was easy and they stood up to over 1,000 kilometres of rough terrain, bumps and shaking.
I can't say the same for one of my riding companions hardbags which sheared off the mounting hardware.
The Motobags are tough! Every detail of these bags has been well-constructed and thought out.

Thanks for your communication and service and getting the bags to me as a tester. I like them so much - I'm keeping them! :)

I've attached a few photos from the trip.
Thanks,
Mike"
Jose Luis del Castillo
"I have to say congrats on the product. I traveled 7,000 km through northern Spain, from Barcelona to Finisterre, crossing the Pyrenees, Aragon, Navarre, the Basque Country, Asturias and Galicia.
I went through all types of terrain and all possible weather.
The MotoBags have endured the falls, the rain, the hail, the sun, the dust, the rocks, the mud, everything.

Everything is perfect, the interior is dry at all times, even in the ravines of the river.
But the most important: I inadvertently stuck my leg between a stone and the Motobags ... Fortunately they are flexible, I avoided an injury! It would not be the same if these were hard panniers ..
I must emphasize that the inner bags are very practical with excellent impermeability.

In short, CONGRATULATIONS ON THE MOTOBAGS !!!!

Attached are some photos of the trip.
Greetings

Jose Luis"
Marc Bastin
"During my recent motorcycle trip to the UK, I got into an accident... with a car coming from the opposite direction.
The lucky part of that story? The right side MotoBag hit the car and it saved my life! It absorbed the majority of the impact! Saving me from serious bodily harm!
I ended up on the ground, completely safe and sound, without injury!
The car had sustained almost no damage; only some black scuffs on his white paint and on his headlight.

If I had collided with the car with an aluminum pannier, I think the car would have had received a lot more damage, and I think that the impact would have been much more violent, probably injuring me.

Oh, and... the bag itself is not torn!!

mb."
Pierre Hernikat
"I just mounted my motobags, they are really beautiful.
Light, lots of room, easy assembly and disassembly.

I travelled for 4 days with the MotoBags and already 3 people asked me where they could buy them. I'm going to travel in the Alps mid-August, here are already some photos that you can publish.

Have a good day"
Freddy Ferrer
"Thank you very much for the great professionalism in your service.
The motobags are already mounted, they seem incredible, but I promise to send you other better photos, as soon as possible.

If someone near Barcelona needs to see them to convince themselves of the quality, I am at your disposal.

Again thanks"
Tom Laso
"Dunno if you guys know about Lone Rider MotoBags? I'm using them and love'em. I like the fact that I can fold them close to bike, when not in use and still put there my air compressor, tubes, tools, water, etc."
Video: The MotoBags on the Road
Video: How to wash your MotoBags
  Note: Product images are for illustrative purposes only and may differ from the actual product. Due to differences in monitors, colors of products may also appear different from those shown on the site. These associated images or photos are for reference only and should be considered illustrative.