MotoBags - The Semi-Rigid Revolution
The MotoBags are back in stock!
We provide FREE SHIPPING worldwide with tracking.
👉 
What's included in a set of MotoBags?
- Two MotoBags
- Two inner, removable dry bags
- Two universal mounting plates and all necessary hardware to attach to racks
- Two MotoBag-specific locks
👉
Why are Semi-Rigid bags superior to aluminum panniers?
1) Lighter than aluminum panniers
2) Less dangerous than aluminum boxes in the case of a fall
3) Will not become damaged in the case of a fall
4) 100% waterproof (Aluminum panniers are NOT)

👉
Why are Semi-Rigid bags superior to soft bags?
1) Higher weight capacity than soft bags
2) Attractive shape is maintained, allowing better organization/access of gear
The MotoBags can be collapsed flat when not in use. The inner board just needs to be removed, as shown above.
The MotoBags come with a secure locking system, protecting your gear from the opportunist thief.
Many accessories of your choice can be easily fitted to the MotoBags thanks to the MOLLE system.
Velcro patches of your choice can be attached to the front of the MotoBags.

Add a personal touch to your MotoBags with the Colored Straps (sold separately). Available in Blue, Red and Orange colors.
 
👉 
Dimensions
38 Liter Capacity
Length: 44CM/17.32"
Height: 40CM/15.74"
Width: 24CM/9.44"
Weight: 6KG/13.22LB

31 Liter Capacity
Length: 44CM/17.32"
Height: 40CM/15.74"
Width: 20CM/7.87"
Weight: 5.7KG/12.56LB
👉 
Racks and Offset rack systems
For motorcycles with offset racks:
BMW R1250 GS/GSA, BMW R1200GS/GSA, BMW F850GS/GSA, BMW F800GS/GSA, BMW F750GS, BMW F700GS, KTM 1290 Super Adventure, KTM 1190, KTM 1090, Honda Africa Twin, Triumph Tiger Explorer 800, Yamaha XT1200Z Super Ténéré
We recommend the following sets of MotoBags:
31+38 liters (You can add extra capacity with our MiniBags)
For BMW R 1200/1250 GS and GSA, we recommend: 31+38L
This allows for a balanced motorcycle with asymmetric racks:
MotoBags Mounting System
👉
What pannier/luggage racks are compatible with the MotoBags?
BMW OEM racks (Vario racks are not compatible)
1250GS / 1250GSA
1200GS / 1200GSA
F850GS / F850GSA
F800GS / F800GSA (rack adapter needed)
F750GS
KTM OEM racks
Triumph Tiger 900 OEM racks
Yamaha Ténéré 700 OEM racks
Hepco Becker
Outback Motortek
Wolfman
Touratech
Givi (Trekker as well. Monokey racks compatible if adjusted – ask us how!)
SW-Motech EVO (SLC are not compatible)
SW Motech PRO: if you drill holes in the MotoBags aluminum plate.
HappyTrail
Metal Mule
Bumot
GIVI Monokey (just need to unscrew the parts that are sticking out. Takes 5 minutes)
Jesse (MotoBags will be inclined and parallel to the Jesse racks)
Please contact us if you have pannier/luggage racks that are not listed here and we will help you.
👉
What luggage racks does Lone Rider sell?
We produce and sell luggage racks for the following bikes:
BMW: R1250 GS / Adventure, R1200 GS / Adventure
HONDA: CRF1000L Africa Twin (-2017), CRF1000L Africa Twin (2018+)
KTM: 1290 ADV
👉
The material used to construct the MotoBags
HYPALON
Hypalon is an extremely durable and waterproof performance elastomer utilized in products designed for extreme use; such as whitewater rafts, containment suits, and other outdoor equipment. The material is a very versatile polyethylene (CSPE) synthetic rubber (CSM) noted for its resistance to chemicals, temperature extremes, and ultraviolet light.
By constructing the MotoBags with frequency-welded Hypalon along with Dyneema and Kevlar stitching, we are utilizing the best materials and construction methods available anywhere.
The best in the world. The strongest in the world.
👉
What riders say about the MotoBags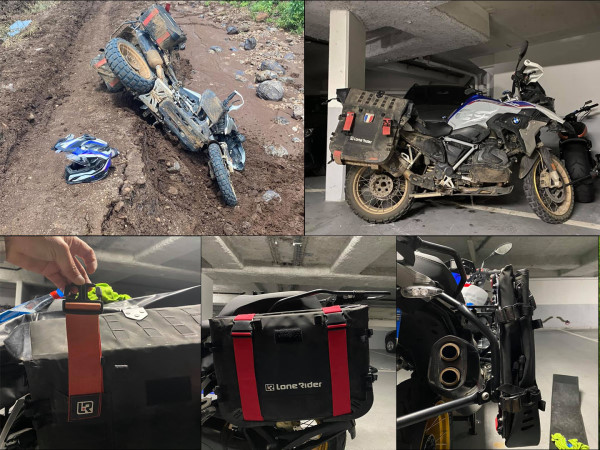 Eric Chauvin
Experience feedback on Lone Rider soft suitcases !
After 8000 kilometers travelled through Kenya and Ethiopia during a trip organized by the agency www.monsieurpingouin.com, the latter suitcases have been put through a strong test.
I fell dozens of times, the bike found itself hanging on the edge of a ravine... I let you imagine the result if this suitcase was hard! No significant damage, only a damaged rubber corner.
Back in France, I have contacted Lone-rider to find out if this corner can be changed; all spare parts are available.
So I order the corner, and take the opportunity to change the straps tarnished by the sun.
Quick order, very reasonable price... my suitcases are like new.
I highly recommend these products which are solid, design and particularly convenient.
Harry Hofsink
"I really like these bags and they get a lot of looks They have performed perfectly up to the top of North America tuktiuktuk to the bottom of Mexico in May this year we will be doing Europe and around the Baltic Sea."
Hans Den Ouden
"Terrific bags. At the beach!"
Hadi Karim
"already installed my PRADA bag 😋"
Zsolt Somogyi
"Bahrain did we come! Courtesy visit to Bahrain Bikers"
Is Ma Il
"Awesome bags.. Thanks Lone Rider 😁"
Jerry_g_w
"The #lonerider bags are awesome, I saw them online last year, ordered them and had them shipped to Australia, have been using them since and love them!"
Mike Stahl
"Back from my trip. We traveled 5,500 kilometres through all types of terrain and weather conditions. The Motobags were absolutely excellent.
First of all they were very easy to pack especially with the mesh bags that were included. The ... bags was a perfect fit for my Africa Twin. I was able to carry everything I needed (clothes, tools, food and camping gear) while still maintaining the low weight and balance of the bike.
The internal dry bags were excellent and kept out the muck, dust and rain that we experienced.
Installation was easy and they stood up to over 1,000 kilometres of rough terrain, bumps and shaking.
I can't say the same for one of my riding companions hardbags which sheared off the mounting hardware.
The Motobags are tough! Every detail of these bags has been well-constructed and thought out.

Thanks for your communication and service and getting the bags to me as a tester. I like them so much - I'm keeping them! :)

I've attached a few photos from the trip.
Thanks,
Mike"
Jose Luis del Castillo
"I have to say congrats on the product. I traveled 7,000 km through northern Spain, from Barcelona to Finisterre, crossing the Pyrenees, Aragon, Navarre, the Basque Country, Asturias and Galicia.
I went through all types of terrain and all possible weather.
The MotoBags have endured the falls, the rain, the hail, the sun, the dust, the rocks, the mud, everything.

Everything is perfect, the interior is dry at all times, even in the ravines of the river.
But the most important: I inadvertently stuck my leg between a stone and the Motobags ... Fortunately they are flexible, I avoided an injury! It would not be the same if these were hard panniers ..
I must emphasize that the inner bags are very practical with excellent impermeability.

In short, CONGRATULATIONS ON THE MOTOBAGS !!!!

Attached are some photos of the trip.
Greetings

Jose Luis"
Marc Bastin
"During my recent motorcycle trip to the UK, I got into an accident... with a car coming from the opposite direction.
The lucky part of that story? The right side MotoBag hit the car and it saved my life! It absorbed the majority of the impact! Saving me from serious bodily harm!
I ended up on the ground, completely safe and sound, without injury!
The car had sustained almost no damage; only some black scuffs on his white paint and on his headlight.

If I had collided with the car with an aluminum pannier, I think the car would have had received a lot more damage, and I think that the impact would have been much more violent, probably injuring me.

Oh, and... the bag itself is not torn!!

mb."
Pierre Hernikat
"I just mounted my motobags, they are really beautiful.
Light, lots of room, easy assembly and disassembly.

I travelled for 4 days with the MotoBags and already 3 people asked me where they could buy them. I'm going to travel in the Alps mid-August, here are already some photos that you can publish.

Have a good day"
Freddy Ferrer
"Thank you very much for the great professionalism in your service.
The motobags are already mounted, they seem incredible, but I promise to send you other better photos, as soon as possible.

If someone near Barcelona needs to see them to convince themselves of the quality, I am at your disposal.

Again thanks"
Tom Laso
"Dunno if you guys know about Lone Rider MotoBags? I'm using them and love'em. I like the fact that I can fold them close to bike, when not in use and still put there my air compressor, tubes, tools, water, etc."
Sashidhar A Sundaramurthy
"I am super excited. I love the bags. It looks cool. The bags seem solid as advertised. I finally see hypalon material. It's amazing."
Miguel Salinas
"Bags fit well and no big deal to install on METAL MULE Racks, very straight forward Anna!!!!!!! They are great bags and very top quality materials!!!! I can't wait for the accessories for the bags as soon as they are available. I was worried with the fitment on the Metal Mule racks, but I am very surprised with all the fitment options available..."
Lynn Coetzee
"Rode through heavy rains. All our luggage was dry inside our Lone Rider Luggage Bags. So easy to take out at overnight stops."
Jean-Luc Jld
"Hi Anna and Fred,

I had a problem with my motorcycle… I was driving on a beautiful road... and had a puncture of the front wheel... (with instantaneous deflation)
I was driving at around 70 mph, and with a motorcycle, you can't get away with that… My motorcycle flew through the air, so I did. I had the choice between the trucks in front of me or the left-hand side of the road lying 7 or 8 meters lower down… So of course I chose the later.
I flew 40 to 50 meters and landed a bit further than my motorcycle. Thank God I'm safe, there's just my left wrist which hurts me a bit and my right knee but I'm OK.

The other incredible part is… the MotoBags held up remarkably well!!"
André Gueissaz
"Hello Fred,

I wanted to thank you for the MotoBags, they are great! Between July 27th and August 11th I went on a trip to Italy via Viverone, Modena, Tavullia (the stronghold of Valentino Rossi), Urbino, Canalicchio, Pisa, Recco and back to Lausanne in Switzerland, in total 2 300 km through the small roads, mountain paths, stony, passes and I must say that the MotoBags have fulfilled their role to perfection!
Despite the heat, the bumpy roads no worries to declare, I am delighted.
I will send you more photos later."
Trond Borge
"Just got my bags installed and loving it so far. As a daily commuter that just sometimes need my side panniers the motobags are simply genius. Now I can split lanes as usually but still have the option to carry something if need be."
Chris Pope
"The bags have been excellent, coping with extreme torrential rain in Thailand and 47degree heat! They also kept my stuff safe during Thingyan in Myanmar when they were soaked and then exposed to 40degree heat every day for a week. They also got a good shaking on the terrible roads of India and Nepal."
Hans den Oudeb
"So here is a photo of my GSA with the Bags installed in their maiden trip in the Netherlands. They look very good indeed. My wife envies me and wants them too....

Greetings

Hans den Oudeb"
Superfunkmatic
"They are superb. Really good quality. Good accessories and very functional. I really like them. I'm going to put them to the test again next summer riding across Canada again. The MotoBags are expensive but will last forever and I can always move them to another bike - dollar for dollar they are about the same as racks and hard luggage price-wise."
Bart and Jess (video)
Video excerpt:

"The strong materials and sustainable design make the MotoBags a traveler's best friends. We like the fact that Lone Rider listens to its riders and innovates their products during production.

Also, we'd like to thank Fred and Lone Rider for providing the MotoBags for our bikes. We think they are the best on the market."


> Watch full video on Facebook
Denis Thebeau
"I bought these and in my opinion, they are worth the money. Very good quality materials and workmanship. 200% waterproof (100%x2) with portable inner bags. Highly functional with military Molle system attachment on 4 sides and they are also beautiful."
AZQKR-Thread on Adventure Rider
"I had a get off on a rock ledge section last Sunday riding with 7 others as the road turned from dirt to a hairpin turn onto the ledge that went 25 degrees vertical. My mistake, thought I was in 1st, but was in 2nd, and the bike stalled and down it went. No at any real speed mind you, but the lava rock is extremely sharp. To give one an idea how sharp the rock can be, while on SAR operations in the mountains, if you break your fall with your hand/s, you're opened up pretty good without gloves on. Didn't have time to dwell on any damage to the left bag, the side I went down on then, and got home after dark so just parked it in the garage that night. Next morning, power wash time as the bike was covered in dried mud/dirt from the water crossing. Pretty damned happy to report not a mark on the left LR 38L bag. That in comparison to the lower crash bar which got scraped pretty good and had to be touched up with some paint so the damaged area doesn't rust in the future. 5/8" HB steel tubing scraped/damaged, LR hypalon bag unscathed"


> Read full Thread on Adventure Rider
Justin Short
" Just a note to say that I'm back from my European tour and have caught up with the MotoBags. They are fitted and I'm really pleased with them, they look superb and the locks/liner bags all work brilliantly for us. Thanks again for all of your efforts to get them to me and we look forward to reviewing them more fully. Next the MotoTent "
bozmotodual16-Thread on Adventure Rider
Zsolt Somogyi
"Now we are talking! It's a dream bag!"
Hylko Oosterloo
"I used them for our first long trip and I am very satisfied with them. They pack lots of stuff. We are 2 persons on the bike and travel with full camping gear. Photo (bike not fully packed on photo) taken on the island of Øksnes in northern Norway (Vesterålen)"
Silvio Brito
"I recently traveled to Patagonia Chilean and Argentina and I liked MotoBags a lot, they answered me perfectly "
Sashidhar Sundaramurthy
"The Bags are perfect. This pic has been a total hit on Facebook. I can't fit my dog anymore though :) "
VADYM KOSTENKO
"Satisfied. A cool product!"
Mattias Grop
"I'm just want to tell you that I'm really happy with both my tent and my new MotoBags. The tent is so easy to set up and take down and rain is no problem for the tent. It keeps you dry. For this year I also did buy the MotoBags and I like them a lot. Easy to pack and perfect when you can take the inner bags with you. Also when I accidentally dropped the bike nothing happened to the bags. If I have had hard cases they probably would have bin bent"
Eduardo Galaviz
"They have served me very welll, but I think you could implement an easier setup system, I also noticed that on long trips the exhaust gets very hot, but I imagine that it will be the case with any other brand. But I would definitely buy them again."
Zane Lee
"Got out for the first time this summer. Photos attached are of lake Tekapo in the Southern Alps in New Zealand. Bags are working well, Thanks for your help."
Video: The MotoBags on the Road
Video: How to wash your MotoBags
  Note: Product images are for illustrative purposes only and may differ from the actual product. Due to differences in monitors, colors of products may also appear different from those shown on the site. These associated images or photos are for reference only and should be considered illustrative.